Safe Mode is often used whenever you encounter a problem. But when you start Windows in Safe Mode to diagnose the problem, Windows completely messes up your desktop since  it automatically  loads the most basic graphics driver and settings.
You can work in safe mode in normal resolution without bad graphics. Windows offers  the option  to  force a boot  into Safe Mode and  load  the normal graphics driver through a  registry edit. Here is the procedure to make the changes in the registry..
First open the registry editor using 'Start  > Run…',  type  'regedit' and click 'OK'.

Navigate  to  the key  'HKEY_LOCAL_MACHINE\System\CurrentControlSet\Control\SafeBoot'.

Search  for  the sub-key  'Option'.

If  it  is not available, create  it manually  through  the command 'Edit  > New  > Key' and select  it.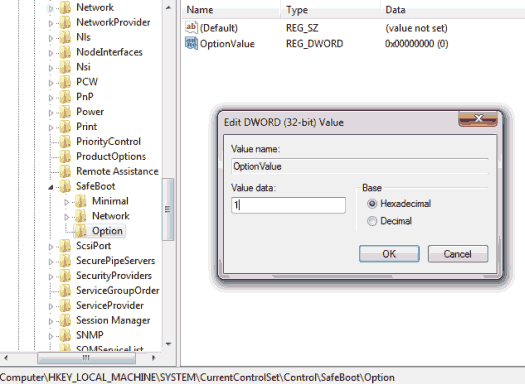 In  the key, use  'Edit  > New  > DWORD-value'  to create  the new entry  'OptionValue', open it by double-clicking, and set  its value to  '1' (safe mode without network) or  '2' (safe mode with network).

To start  the computer normally again  later, set the value  to  '0'.
Also check out related articles like
Add "Reboot Into Safe Mode" To Your Start Menu 
Make The Safe Mode Boot Option Appear Every Time Windows Starts Up