After updating Windows XP through 'Windows Update' and after restarting your computer, you can no longer type passwords in the Welcome screen. Windows may have simply blocked it. So how do you log in? This phenomenon occurs on some systems after a security update. In order to reactivate the login screen, press the key-combination [Ctrl]+[Alt]+[Del] twice.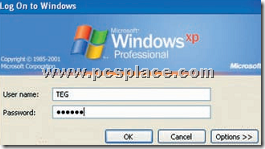 With that, you will switch to the classic Windows login dialog box, using which you can type your username and password without a problem. In case this doesn't suit you, you can deactivate the welcome screen altogether and use the classic login. To do this,
Open 'User Accounts' from the Control Panel
Select 'Change the way users log on or off' and
Deactivate the option 'Use the Welcome screen'.
After further update cycles, you can try switching on this option again to test whether the Welcome screen is working again.