While you rarely see a BSOD with Windows XP, the few times they do crop up are usually due to misbehaving drivers. To see which of these (if any) broken or missing drivers is causing your problems, use XP's unsung Driver Verifier Manager ( Start > Run > "verifier" > [Enter] ).
In the first screen you will get options for create custom settings,delete existing settings and display existing settings etc., You can select your required selection. For the process of verifying drivers , select Create Standard Settings and move ahead to select which drivers to verify.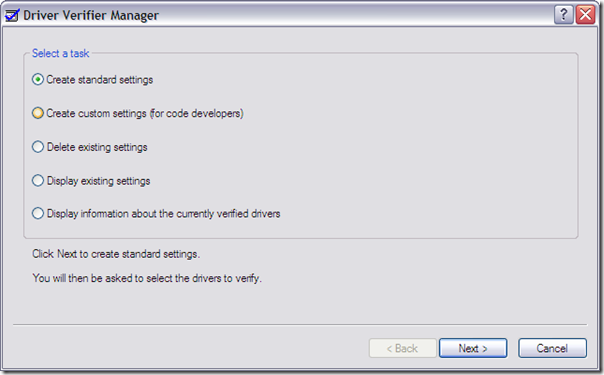 Once you've done that, you'll need to reboot to let the Verifier do its job. If a driver is indeed your problem, then you'll get a blue screen during the booting process which will tell you which driver it is. If your PC boots fine, then your problems lie elsewhere.
To reset the verifier, do Start > Run > verifier / reset > [Enter]. This way you can keep a check on your drivers and avoid any of those driver problems.