XP's successor Vista displays a thumbnail preview of programs that are open when the mouse is pointed to a minimized program in the Taskbar. This can easily be done in Windows XP too. All you need is the Visual Tooltip freeware. It creates thumbnails for the Taskbar which can be positioned as you like. The tool also replaces the Taskbar with a three dimensional Doc like Apple MAC if needed. It is available for free download on Download Here.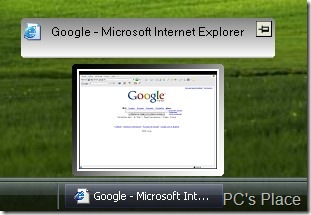 Installation of Visual Tool Tip:
Unzip the archive in a folder of your choice and start the 'VisualToolTip.exe' file. Select 'English' in the first dialog box and click 'OK'. The tool appears in the system tray after you start it. Right-click it and select 'Options'.
Configuration:
You can set the image size, background color and transparency in the 'Thumbnails' tab. Now switch to the 'Display' tab. Activate 'Start with Windows'. By default, there is a slight delay before the animated view appears.
It opens faster when you reduce the value '700' in the 'Delay in showing thumbnail' field or set it to '0'. If you want this to happen even faster, set both the combination fields 'Thumbnail display animation' and 'Thumbnail close animation' to 'none'.
You can also pull a thumbnail at any place on the screen by dragging and dropping it. It then remains in the foreground and is updated regularly. A lengthy video conversion can be monitored with this. When you are done with using the window, you can hold the mouse pointer over it and click the pin symbol in the title.
Replacing the Taskbar:

Visual Tooltip can replace the Taskbar with a three-dimensional bar similar to the dock on Mac computers. You can set this in the 'Dock' tab. At least activate the 'Put automatically all thumbnails in the dock' and 'Put tray icon on dock' options. Set the rotation and transparency and test the alternative bar. If you prefer it that way, you can even turn off the Windows Taskbar by activating the "" option in the 'Taskbar' tab.
NOTE: If you start the tool with Windows and hide the Taskbar before the new bar is configured correctly, you will not be able to access your programs anymore. If this happens, open the Windows Explorer with [Windows] + [E], navigate to 'VisualToolTip.exe' and restart it. The Taskbar will be displayed with Options.