Has the "Windows File Protection" message ever bugged you? Well, not anymore. Here is a way to bypass the annoying windows File Protection message.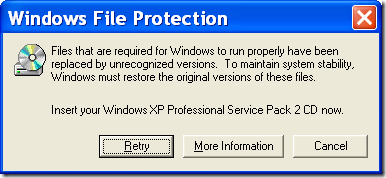 Disabling System File Protection in XP prior to SP2 involved editing the sfc_os.dll file, but the version of sfc_os.dll that comes with SP2 is different, and you cannot disable file protection with it. With SP2, you need to use the previous version of the sfc_os.dll file, which is 5.1.2600.1106 (the one with SP2 is 5.1.2600.2180). Here is the procedure to follow..
Open sfc_os.dll with a hex editor and go to offset 0xECE9. The values to change are 33 C0 40. Change these to 90 90 90. Save your changes. Rename the file with a .bak extension (sfc_os.bak). The original exists in two locations: the \Windows\System32 folder, and the \Windows\System32\dllcache folder.
Place a copy of sfc_oc.bak in both these folders. Then in the dllcache folder, look for cmd.exe, double-click it, and enter this command: copy SFC_OS.BAK SFC_OS.DLL /Y
Next,  go to your System32 folder and do the same thing. Look for cmd.exe, double-click it, and enter exactly the same command.
Note:
If you have a problem overwriting the files, you can do the copying within the Recovery Console, or you can try Safe Mode.

The dllcache folder is a hidden folder.

It is important to copy the file to your dllcache folder first.

If you're prompted to pop in your Windows CD, click Cancel.
Once the files have been copied, shut down your computer and restart it. The final step is to disable System File Protection in the Registry.
Go to HKEY_LOCAL_MACHINE\SOFTWARE\Microsoft\Windows NT\CurrentVersion\Winlogon. In the right-hand pane, if it doesn't exist, create a new DWORD value named SFCDisable. Double-click it and enter "FFFFFF9D". Exit the Registry Editor and reboot. You're done.