Recently I installed Vista Home Premium on a two year old notebook. But in spite of powerful graphics chip Vista absolutely refuses to use the new Aero Glass transparency effects. Here is how it is done..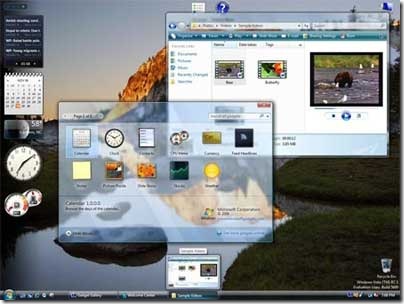 Windows Vista checks at the time of installation whether sufficient RAM is available for the Aero Glass effects. For a resolution of 1400 X 1050, 64 MB of Video RAM is not sufficient according to Microsoft. But, if you have installed a WDM driver for your graphics card, you can still activate Aero Glass. For that you only have to change two entries in the Registry. To do this,
Start the Registry Editor by clicking on Start and then typing 'regedit' in the search line.

Navigate in the registry editor to HKEY_CURRENT_USER\Software\Microsoft\Windows\DWM on the left pane and set the value for the registry key Composition to 1 and the value Composition Policy to 2.

Close the Registry editor.

Open the command line by clicking on Start > All Programs > Accessories and by right clicking on Command Prompt > Run as Administrator.

Now enter 'net stop uxsms' and finally 'net start uxsms' in the prompt.
From now on. the transparency effects of Windows Vista will run steadily on the older Notebook.