What is the difference between directories in Windows Explorer and the folders of an actual filing cabinet? They are never full, irrespective of how many files one stuffs in them. There is a big disadvantage though, one cannot see them all with a simple glance.
Windows Vista offers the option of stacking files in folders on the basis of their metadata. This approach has an advantage over the normal fling system in a complex folder structure in that you can change the sorting criteria at any given time in order to group files according to attributes such as "Created Yesterday" or " Created Last week".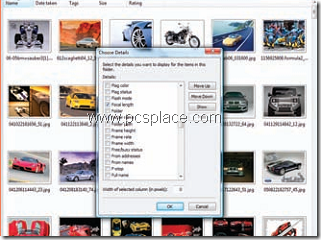 Right-click a free space in the Windows Explorer and select "Sort by" in the context menu.
The following sub menu offers some metadata depending on the file types in the folder as basis for sorting. The metadata types are different for different file types. For example, a digital photo has "Dimensions" and "Date Taken", and a Word document can store the name of the "Author".
Select a criterion for sorting by clicking on the respective entry. Windows immediately stratifies all files in the current folder and its subfolders on the basis of this specification.
The stacks appear as labeled icons of stacked files. To see the files contained in the stacks, Double-click on the icon. Windows stacks the files that do not contain any information about the selected criterion next to the different stacks.
In case Windows does not offer suitable criterion, select "More" in the sub menu. The following dialog lists all possible metadata types. Activate the checkbox for the desired entries and confirm these with "OK". Windows will now also show these entries in the "Sort by" menu in that folder.