At a point of time, the Windows Vista logon screen may get quite annoying. To add more to the annoyance, Windows Vista does not allow the user to change the default logon screen. You can download a third party software called "Logon Studio Vista" from this link which lets you customize the default logon screen as and when required.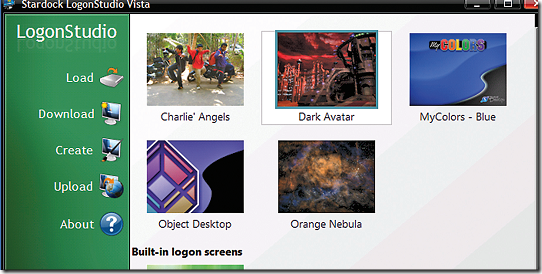 Once downloaded, double-click the setup file and install the application to an appropriate location. To create and change the default logon picture using logon studio:
Click "Create" to browse for a new logon screen picture

In the resulting window, enter an appropriate name for the picture and click the "Browse" button to
locate it.

Once done, simply click "Load" to view it in the right pane.
Double-click the image to set it as your logon screen

Once done, click "Save".

Now in the main window, simply select the picture and click "Apply".
NOTE: You can also click the "Download" button to download additional logon backgrounds from the Logon Studio website. You can even create your own Windows Vista login screen.  .