Previous versions of windows allowed a user to capture screen shots of Desktop by hitting the [PrtScrn] key. This was quiet disquieting as it had limited options to further manipulate the image. To overcome this problem, Windows Vista has introduced the Snipping Tool.
Using this tool, one can easily capture screenshots of the desired window, entire screen or by a particular selection within the screen. Moreover, this tool comes absolutely free with Windows Vista. To use the Snipping tool: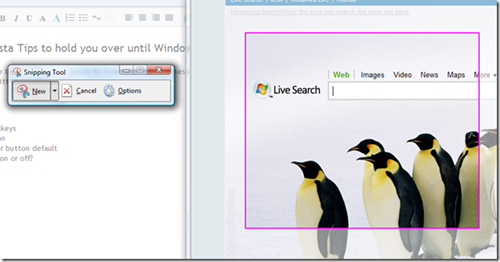 On the desktop, click  "Start > Accessories > Snipping Tool". The "Snipping tool window" appears.

Click on the "New" drop down arrow and select an appropriate option. For example to take a screenshot of a particular window,

select the "Window Snip" option.

Now simply place the cursor over a particular window and select it.

The screen shot will now appear in the editing window.

To save the file, select the "Save As" option from the "File" menu.