The best thing about Windows 8, is its not like any other Windows OS which makes it unique and special. One of the most talked about Windows 8 feature is its gesture commands. In this post, I have listed out some of the must know Windows 8 gesture commands.
Its not like you cannot use your mouse or keyboard to get this thing done. But getting your task done gesture commands looks cool and is surely an incredible experience. And I am sure that once you get used to these Windows 8 gestures, you would continue using them. See if you like them.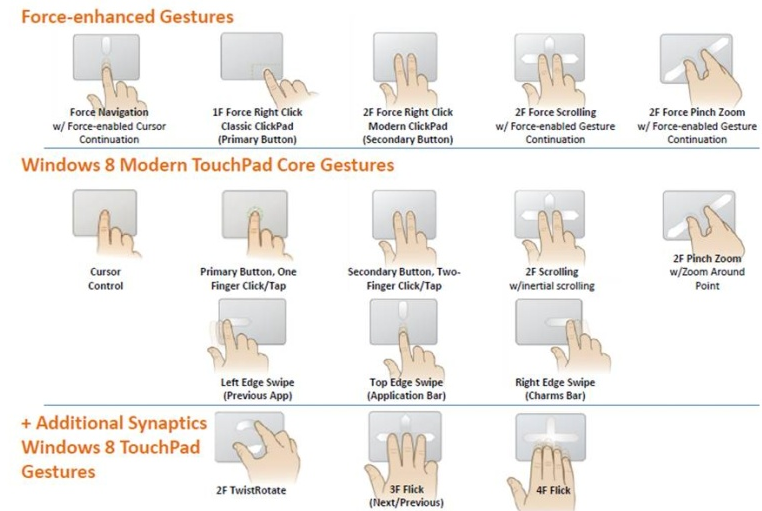 Must Know Windows 8 Gesture Commands
Bring Windows 8 Charm
I love Windows 8 Charm as it brings out an easier way to launch any application or to get to the start screen. And in order to bring Windows 8 Charm, all you need to do just swipe from the right edge of the screen towards the other end.
Close The App
In order to close any app all you need to do is tap the app at the top and drag it towards the bottom. And continue going down till the app minimizes and finally disappears into the bottom edge.
Command Bar For App
This one is similar to that of the Android. In order to bring out the command bar for any app, just swipe in from the bottom of the screen. This command bar would let you pin, unpin, uninstall, minimize or maximize an app.
Semantic Mode
If I had a chance, I would have named it as Cosmic Mode. In this mode, things look so tiny to you that file movement, file organization and many things look simpler to you. In order to switch to Semantic Mode, pinch in to zoom out, and hold on till it enters into Semantic Mode.
Switch Between Apps
I love this Windows 8 gesture. When I tried it first time, I got a felling that I am Tony Stark doing crazy stuff on computer. In order to switch to last used app, just swipe in from the left edge of the screen. And if you wish to see the list of all the opened apps, just swipe in a little bit from the left edge and then back to the edge. I bet you will feel good.
Some Basic Windows 8 Gestures
Here are some of the basic Windows 8 gestures that you would need while using it.
Tap once to perform any action (its as good as a click)
In order to get more options for any app, just tap anywhere on the app and hold it while it shows up options
Use the popular Pinch to zoom in or out
Hold anything with two of your fingers and rotate it in order to get the whole thing move