When I first came to know about this feature, I rushed into my brother's room to try this feature out. "Picture Password", this is the most innovative way to login I have ever come across.
So what exactly is a Picture Password? Well, this will display you a picture (chosen by you) on the login screen and you would have to make the secret gesture (preset by you) at the specific location on the picture. If you do the things right, you would be logged into Windows. I think the below picture will make the concept clear.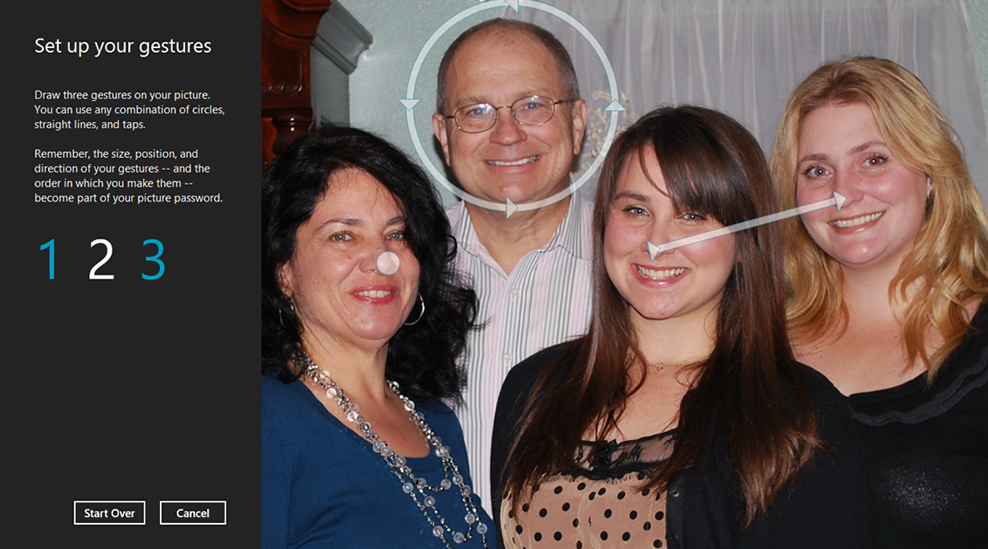 Steps To Setup Picture Password On Windows 8
First thing that you need to do is click on the Settings option on the Charms Bar. In order to get the Charms Bar, you would have to either move the cursor from top right to down or swipe the mouse pointer in from the right
Now click on the More PC Settings option
Click on the Users on the left panel and click on the button labelled as Create a picture password 
This will launch a user interface which will help you do the job
In order to choose a picture, click on the Choose Picture button
You can upload a picture from your local machine or Facebook or Flickr or SkyDrive
Now position your picture and click on Use this picture button
Now you need to draw three gestures on the picture. And these gestures could be the combination circles, straight lines, taps
Repeat the same pattern for 3 times and you are done with the setup
From now onwards, whenever you login to your Windows 8 machine, it would display you with the selected picture. And in order to login, you would have to get the gestures right. Interesting, right? Give it a try.