It is not the final release by Microsoft, but yesterday they have released the developer preview versions of Windows 8. Below are the download links for Windows 8 developer preview. And based on your hardware, you can download the respective download packs.
And using these downloads, we can easily create bootable Windows 8 USB drive. Below are the hardware requirement to run Windows 8 on your computer:
1 (GHz) or faster 32-bit (x86) or 64-bit (x64) processor
1 (GB) RAM (32-bit) or 2 GB RAM (64-bit)
16 GB available hard disk space (32-bit) or 20 GB (64-bit)
DirectX 9 graphics device with WDDM 1.0 or higher driver
We would be talking about the complete guide to create Windows 8 USB drive. This method was actually meant for creating Windows 7 bootable USB drives but it also works perfectly while creating Windows 8 bootable USB drives.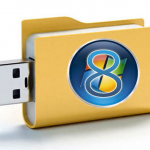 Guide To Create Windows 8 Bootable USB Drive
We would need a tool, Windows 7 USB/DVD Tool. Do not go worried by its name, this tool would work like charm with Windows 8 too.
Once it is downloaded, install the same on your computer and launch it. Now click on the Browse button and choose the file that you have downloaded above and click on Next button.
Now this tool would ask you the choose he media type. In addition to bootable USB drive, it also lets you create bootable DVD drive.
You need to now choose the USB drive from the drop down list and once done, just click on the Begin Copying button. Now wait for some time while this tool creates bootable USB drive.
Note that while this process, this tool wipes off the USB drive completely. This would take time, so be patient.
That is it! While you would be having your cup of coffee, this tool would be done with its work. This is how you can easily create Windows 8 bootable USB drive.