If you are wondering how to view those pictures or documents of huge size or high resolutions which cannot be seen clearly in the normal browser window, Check out Zoom.it, a free web service which lets you zoom, view and share high-resolution images.  It is used to convert images into Deep Zoom format. This provides a smooth and efficient way  to explore the whole image, no matter how large the picture may be.
To use it, Just visit Zoom.it , fill the link to any image on the web and click Create. It will then show you a best way to access and explore the image in a browser with zoom in and zoom out options along with a nice short URL.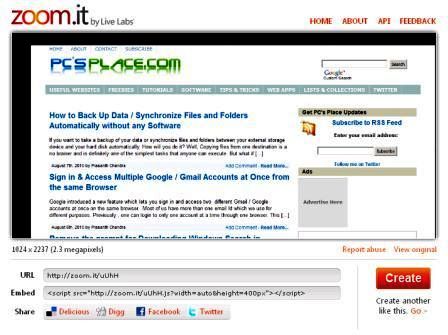 Zoom.it is created my Microsoft Live labs and iruns on Windows Azure. It also accepts accept links to PDFs, SVGs and even regular webpages / websites. You can even share this with your friends  or embed the viewer directly onto your own site.