Yidio, World's first social entertainment network that lets you discover, share and earn at the same time from the same place. You can search for your favorite videos or songs, share them with your friends and can even earn by watching your favorite shows or listening to songs you like. It  has all the digital entertainment you need like TV shows, Movies and Music.
It has over 2,500 TV Shows, 12 Million Songs, and over 40,000 Movies. You can discover a lot of new videos and songs and you also have an option to share these media with your Twitter followers or Facebook friends.
The best part is that you watch any TV Show, Movie or Listen to any Music you Want and can earn through it. Start earning points instantly for watching your favorite TV show, movie, or listening to your favorite songs free. You can use your points to buy prizes or share with friends!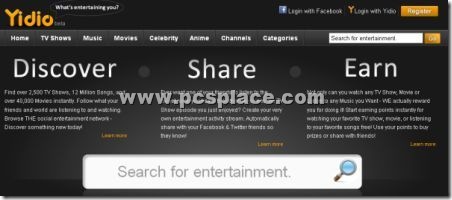 The site is neatly organized with users activity and top lists. You can browse and search for whatever you like easily as they are arranged in the alphabetical order. You can login to the site using Facebook or by registering an account. You can even interact with other users.
Some best features of Yidio are..
Share – instantly share across Facebook, Twitter, and any other social network

Earn – earn points for watching your favorite TV shows, then redeem the points for prizes

Search – search and watch over 300 million videos from every source around the world
Internet TV – search, find and watch full length episodes from over 2,000 TV Shows

Streaming Radio – listen to over 8 million songs free from your favorite musicians
Full Length Movies – watch and download over 30,000 full length movies
Listen songs free– listen to your favorite music and save playlists of your favorite musicians