Twitter has pretty much exploded across the internet and is becoming the most powerful form of social media in the world. Twitter is widely used for marketing and it requires you to have more followers. The single best way to increase your Twitter followers count is Twitter Giveaway contests.
The problem with these Giveaway contests is that they took a lot of manual tracking and work to manage. But these are very productive as they turned out to be very successful. Here is a Twitter tool that will allow you to run these Twitter Giveaways, completely on auto-pilot, while you go about the rest of your business. It is called Twiveaway, a tool which automates Twitter giveaways.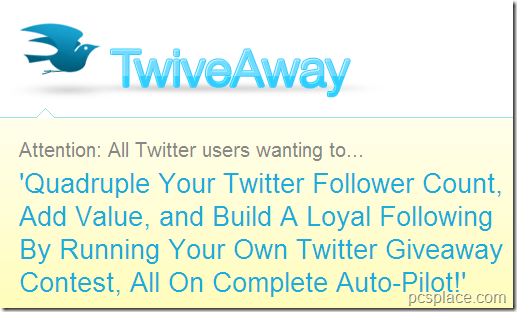 It is very easy to run a twitter giveaway. In order to start yours,go to Twiveaway and then
Create a Twiveaway campaign

Select the criteria for the Twiveaway (i.e. user must follow you on twitter, user must retweet the message you ask them to retweet)

Post a message on Twitter, or wherever telling people about your twitter giveaway. As soon as the giveaway criteria is met by them from step 2 above, Twitter Leap will AUTOMATICALLY send the person whatever giveaway prize/item you're giving away, via a Direct Message on Twitter.
That's it and you are done. For more details and features check out www.twiveaway.com