Twitter is best way to share your favorite links with everyone. The links may contain articles, pictures and even videos. Now you can watch the videos being shared on twitter. ffwd, the video-surfing recommendation site has launched Twitmatic, a site that plays only videos being shared on Twitter.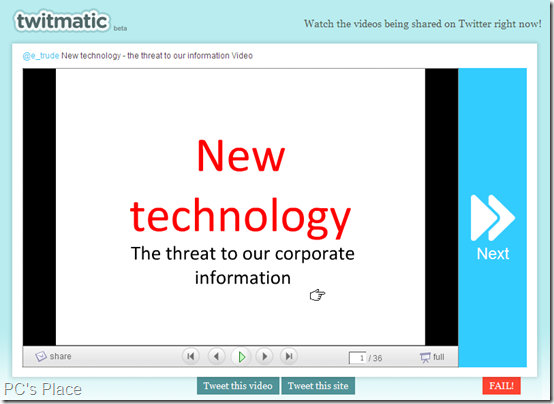 In the site you are presented with videos in an embedded player which you can watch, or skip to the next one. If you like a video,you can tweet it using  "Tweet this video" button, which acts as an extra vote for the video since presumably ffwd is counting how many times a particular video is Tweeted to come up with its recommendations.
If you don't like the video you can skip by using the next button and you can even report any errors by using the FAIL button , so that the videos are checked again. There is also a SxSW version which does the same for SxSw videos and also shows some popular SxSW videos of the web. This service to watch the real time stream if videos that are being shared on twitter can be used to kill sometime.
Check it out at www.Twitmatic.com