You could Tweet your followers on Twitter in style by using symbols. Adding symbols to Tweets used to involve remembering a whole bunch of keystroke combinations but thanks to TwitterKeys by Thenextweb. Often the word limit is limited to 140 in twitter. So you can avoid using some words by replacing them by symbols. This will also make your twitters look god and different and will surely make you stand out. For example  "I ♥ U" looks more cooler than the old style I love you.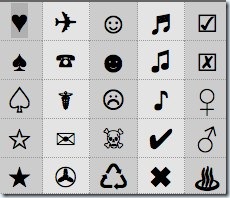 Just drag the TwitterKeys bookmarklet to your toolbar and next time you're looking for a symbol, just click the link to open the directory. Find the symbol you like, copy it (Control + C), then paste it (Control + V) into your Tweet. Pretty sweet.
Note: TweetDeck users will need to change the apps defult font setting to international/utf8 in order to use TweetKeys. Also, Mac users will recognize many of these symbols from the Special Characters set found on OS X. While not all of those characters will work cleanly in Twitter, the ones selected for TwitterKeys will.