You cannot upload MP3 songs to YouTube directly. You need to convert those MP3s to make a video as YouTube only allows to upload videos. Here is a simple free web application called MP32Tube, It converts MP3 songs or Music to FLV format videos and you can even add images and can directly upload this video to YouTube.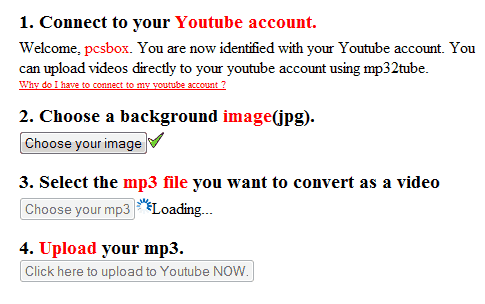 Using this service, you can convert MP3s to YouTube videos easily. It provides an option to upload your favorite songs to YouTube. The background image will be displayed when the video is played. In this way you can upload your favorite MP3s to YouTube and Share them with your friends.
You first need to authenticate your YouTube account and It integrates the YouTube API so upload of created videos can be done directly to your YouTube account. Try MP32Tube is a very useful service which makes direct mp3 uploads to YouTube possible.