Lazy Feed is an amazing web service which lets you stay updated with all your favorite topics. It is an easy way to get real time live updates about all the interesting things you like. You can save your favorite searches as tags and can get all the latest articles or news posted about it. Lazy feed acts as a a news aggregator and a feed reader which displays all the info you need at one place.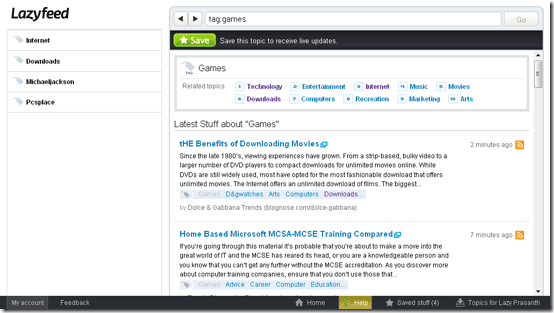 You need to signup to use this service. After logging in, you can search for anything you like and if you want to know regular updates about that topic, you can save that particular search topic as a tag. These saved tags can be used for further uses. Whenever you execute a search, a main window will show you the headlines and excerpts where the terms that you have keyed in are featured, and the topic can be followed at will.
Generally we subscribe to RSS feeds for getting latest information. But If you want to know all the information which is being posted about a particular topic, subscribing to each and every feed is impossible. Lazy Feed helps you discover all the latest info about any topic.
You can also use a feature called Connecting sites, which will get content from your connected sites. This feature helps you know more information about the articles posted on any blog, Flickr, twitter or Del.icio.us links. Using Lazy Feed, you can save all kinds of topics and don't worry about missing out on anything. The most recently updated topics will rise to the top, keeping you always updated.