Facebook has become more than just an ordinary Social Networking for its users. People find it a great means to remember their friends' and relatives' birthdays and events that they were looking for. But how could you get them on your calander. Here is a web app FBCal, which lets you import / transfer Facebook birthdays and events into Google Calender and Outlook.
I personally love using Google Calender as I find it a great tool to keep myself updated with all the important dates like Birthdays and events. FBCal is an amazing web app which not only lets you transfer / import Facebook birthdays, but also lets you import all the events to your Google Calender so that you do not miss any.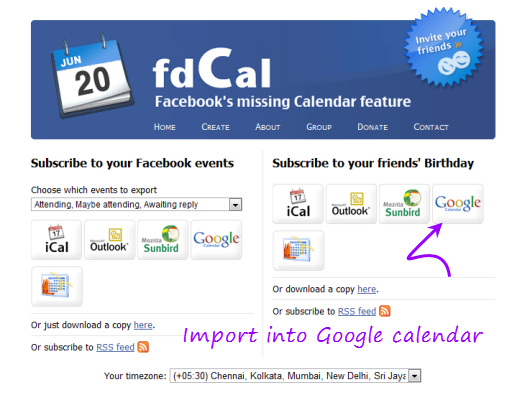 If you do not use Google Calender, FBCal has other means to offer its service. Using this web app, you can import Facebook birthdays and events to Outlook, Apple iCal, Subbird, Live Calender or to even take a RSS feed.
Once you use FBCal, you would relieaze that it offers the best means to import Facebook birthdays and events to programs like Google Calender, Outlook, Live Calender and many other apps so that you do not miss any.