Twitter does offer you with an option called Twitter History. But yes, using that option you cannot dig tweets and messages beyond a period of time. So what would you do if you want to search and find old Tweets and Messages which cannot be traced by Twitter too.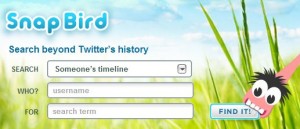 Well, here is the answer for you, 'I would use Snap Bird'. Snap Bird is a free web service which lets you search and find old Tweets And Messages On Twitter that you cannot do using its history option.
Since there is not limit on the time period, Snap Bird has be be considered as one of the best way to search your favorite old tweets that you could not find.
This web service offers you with three filters, using which you can narrow down your search. This is indeed amazing. If you are looking for Public tweets, you need not even authenticate your Twitter ID. But for direct messages and Private tweets, you would require to authenticate yourself.
So no need to crib and cry if you are not able to find your old tweets and messages, Use, Snap Bird and get your search done.
Happt Tweeting!