Delete Your Accounts is a free web service to delete all your accounts of Social Networking and other web services in an easy and quick manner.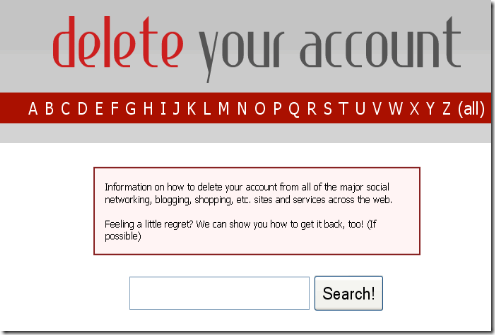 Delete You Accounts is actually a web application which helps you with step by step instructions to delete accounts from the sites like Facebook, Twitter, Digg, Stumble Upon, You Tube, Last.Fm and many more.
All you need to is simply visit Delete You Accounts and type the name of the domain from which you want to get your account deleted or deactivated. Once you type the name, click on SEARCH button. Then it will show you the step by step procedure and required instructions to get it done.
So, no need to search sites and domains to equip with the right procedures to delete your accounts. Use  Delete You Accounts and get your accounts from Social Networking and other web services deleted.