There are number of web services available on Internet which let you backup your photos from your Facebook, Flickr, Instagram, Picasa account. In this post we would be talking of one such service, SaveYourStuff which lets you backup your photos from Facebook, Flickr, Instagram, Picasa to Dropbox.
Sounds interesting, right? You can configure SaveYourStuff such that you can sync your social networking accounts and photo sharing websites account that all your photos from those websites will be transferred to Dropbox without much of efforts.
SaveYourStuff actually works on two way. It implies that if you copy any photo to Dropbox, then it automatically gets uploaded to your Facebook account. You can obviously configure it in a way that this other way thing does not happen. But this feature surely makes it a special one.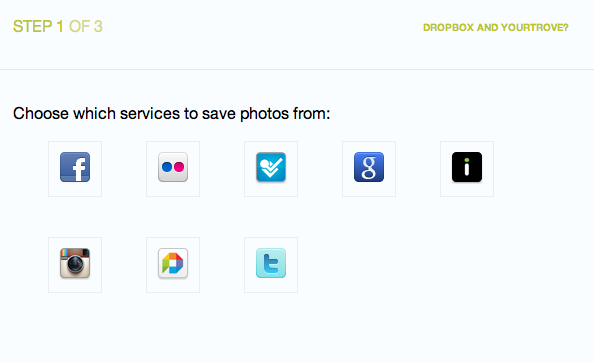 SaveYourStuff supports number of services like Facebook, Flickr, Twitter, Instagram, Picasa, Imgur, FourSquare, PicPlz, TwitPic and almost all the popular services from where you would practically need to backup photos.
So how to use this amazing web service? Well its quite easy. Once you open the home page of this web service, it would list of the icons for number of services it support. Then just click on the one whose photos you want to backup.
Lets suppose that you click on Facebook, then it would ask for your Facebook credentials to authenticate and it will use a third party tool called, Your Trove which would actually take care of the photo transfer business to a folder on Dropbox.
So, this web service actually created a folder named, Your Trove in your Dropbox account where all your photos would be backed up. And if you wish to upload an image to Facebook or may be some other account, just copy that photo into your Your Trove folder in Dropbox.
And if you want stop this thing, simply delete the Your Trove folder from your Dropbox folder and everything would stop. This is how you can backup photos from Facebook, Flickr, Instagram, Picasa, Twitter to Dropbox and vice versa.