If you want to switch from Spotify to Grooveshark, here is an amazing way to get import you Spotify playlists. Groovylists is a free web service which lets you import playlists from Spotify to Grooveshark. Not just this, you can use this service to import your playlists from Last.fm and iTunes XML playlists too.
All you need to do is upload your Spotify, Last.fm or iTunes XML playlists, and this service would transform them into Grooveshark playlists. But, Groovylists gives you with an upper limit of 200 songs.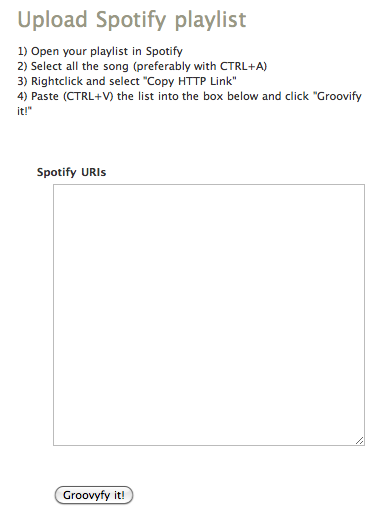 So, if you intend to import more than 200 songs, it is recommended to split your original playlists in the group of 200, and then import them to Grooveshark. And the fact that using this service simplifies most of the job.
Once you visit this website, you need to click on the music service from which you want to import the playlists. Then, open your Spotify playlist, select the songs (make sure they are less than or equal to 200), and then right click on it and click on the option labelled as Copy HPPT Link.
Once you get the HPPT Link, copy the link in the space provided on the Groovylists interface, and then click on the Groovyfy it! button. That is it. This is like the easiest way to import playlists from Spotify to Grooveshark.