SlickPlan is a free web service which can be used to create free Sitemaps or flowcharts online. This web application works as a sitemap / flowchart generator that makes designs of sitemap and flowchart easily. This is very useful for web designers and developers who need to create navigation flowcharts or site plans for their clients websites. The free flowchart designs can be created in simple steps which can be used in any documents or presentations.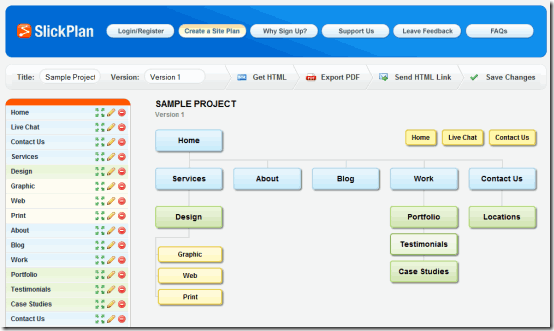 You need to signup to access this service. After signing up, login to your account to create your own beautiful flowchart designs and site plans. The purpose of SlickPlan is to create beautiful, functional sitemaps and flowcharts. There a lot of options which lets you customize the flow chart or sitemap created by you.
The sitemaps or flowcharts can be embedded as HTML or can even be exported as PDF documents. You can even send the HTML link. Although SlickPlan is perfect for professionals, its simplicity allows anyone who needs a quick and professional sitemap or flowchart for their planning project to use it.