TweepML is a new twitter related web service which lets you share groups of twitter users easily. Using this tool you can create twitter user groups with list of followers or people you follow on twitter and can share them online. You also have an option to follow many twitter users mentioned in the Twitter lists or groups created in a single click.
Just like an OPML file,  TweepML creates TML, an extensible, open standard format that allows you to manage and share groups of Twitter users. Twitter groups can also be created using Desktop clients like TweetDeck but TweepML makes this much easier. You can discover a lot of interesting Twitter users and can follow them instantly.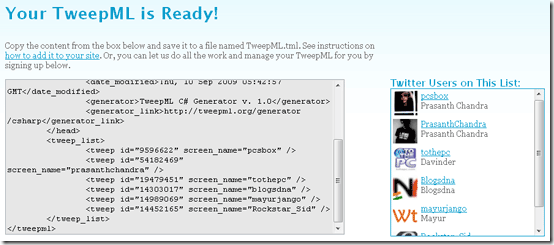 You can create a list of followers by filling out a form mentioning Twitter IDs. After giving the required details you can click View my file now to get the TML file code. The list can be used on your website or blog by creating a page for TweepML and entering the code created. You can find more details here.
It also lets you follow many people at the same time. All you got to do is go to the specific list and select the people you want to follow, enter your twitter login details and click Follow. In this way you can be recommended by many users and also can mention your friends to your users. TweepML is an amazing resource for sharing the lists or groups of Twitter users easily.