Tag Clouds are an amazing way to display the topics you have on your website or blog. Using Tagul you can create different types of tag clouds for free. This web service will let you make tag clouds with different shapes and features and embed them easily which will make your website or blog stand out from others.
You can add a lot of effects to customize your Tag Clouds like background colors for tags, rollover colors and effects, text inside text etc. It also lets you choose your favorite fonts and you can style your tag cloud to mix with the theme of your blog or site.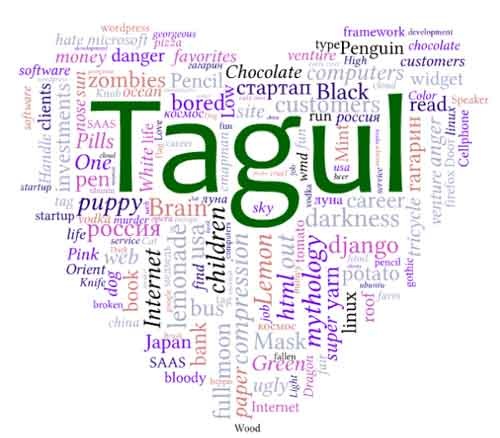 In order to create a Tag Cloud..
Sign up to the service

Create a cloud and choose its core options, including:
– data source ( RSS feed, html web page, etc.)
– tags URL pattern (Ex:. http://google.com/search?q=$tag)
– cloud shape
– fonts to render tags
– tags' rotation angles

Click "Build it" button and wait until the cloud is done

Customize its appearance by choosing:
– tags and background colors
– rollover colors and effects

Save it, choose rebuild interval and embed the cloud into your web page using html code provided
These created tag clouds can be embedded by using the created XHTML code and SWF Object file. Best thing is that it is just 50kb in size and it gives access to its API. Tagul lets you grab the attention of your visitors of your website or blog by displaying gorgeous looking tag clouds.