TxtNinja is a free web service which lets you convert text to images. This is very useful as the converted images from inputted text can be used in numerous ways. The images produced can be used anywhere like in Email signatures, Forum boards and signatures, websites and blogs, etc. This is useful to avoid Spam bots to find your email address.
Generally, posting your e-mail on forums and public locations on the web is not safe. TxtNinja helps you avoid that by creating an image you can use from the given text. That image can be posted anywhere on the net and it will be identifiable by humans and completely invisible to spam bots.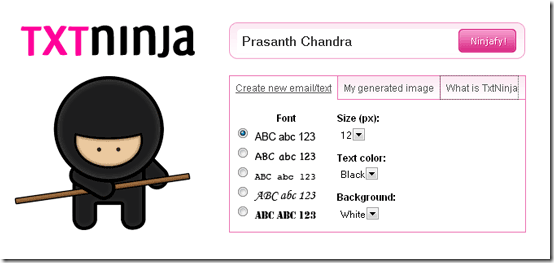 The procedure to convert text to images online is very easy. Just go to TxtNinja and enter the text in the given space. Select the settings like Font and size, background color and text color and click Ninjafy.  You will get a direct URL of the image which is stored on their servers.
You can use that image without any restrictions. You will also get HTML code and Forum code to embed your image. This free service is very much useful to create images which will be useful to display in forums where Java Scripts are restricted and also hide information and/or bypass filters.