Twitter has there been on the top flight of social networks ever since it was introduced. This microblogging web service has redefined social networking in its own way. And this makes it survive and succeed even in the times when dozens of social networking sites come and go every month.
In this post I have compiled few best Twitter apps to share music. Using this apps, you can share music on this micro blogging service.
These free ways to share music on Twitter are something that you have been looking for as a Twitter user. Check them out.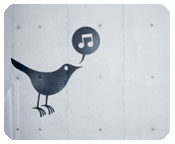 5 Free Ways To Share Music On Twitter – Twitter Apps
Crunch.fm
This is a free web service to share music on Twitter. Using this app is very simple. All you need to do is search for the song (be specific with your searching keywords as sometimes its search feature behaves strangely). Once you find the song that you want to share, edit the tweet and share it.
Tunebird
Twitter users like using it because it a pretty simple app. You need not do lots of clicks to get your job done. All you have to do is simply look for the song in the provided search field and share it straight away. It is an interesting service to use.
Twisten.fm
This web service is actually linked with Twitter and Grooveshark. So, it allows you to search songs on Grooveshark library. If you have signed up with it, you can share songs directly from the site when you are listening to them. And it also allows you to check out your past activities on the web service.
Twt.fm
I prefer using this service that in addition to conventional search and share feature, twt.fm also lets you use YouTube links, MP3 link, and even SoundCloud link to share a song. An interesting feature it is.
Twusic
This is one of most interesting Twitter apps that I have ever come across. It uses the hashtag feature of the Twitter and lets you tweet with #nowplaying tags in your tweets. Not just this, it also maintains a list of all the songs that have been played by you allowing you to maintain a playlist of your own.
There are many more free web services available which lets you share music on Twitter, but these are the best ones among the ones that I have tried. If you have been using any such Twitter apps, please comment and share.