Can we add and play music / audio / video files in Microsoft Word? Is it possible? Yes it is. In this post, I will show you the way to add music and play it in your MS Word 2007 file.
No doubt, you must have felt the need of adding music or audio or video files into your MS Word files. Then here is the way:
Step 1: Open the MS Word file and start your work with it.
Step 2: Now, when you need to add an audio file or music file, simple place your cursor at that particular point and click on Insert tab.
Step 3: Now, click on the Text option, and there click on the button labeled as Object.
Step 4: This will open a window which will ask you to choose the type of file. Here, you can simply locate the particular file type and then click on OK button.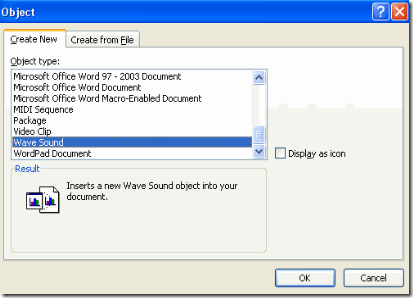 Step 5: Now, this will add a Speaker symbol on your MS Word file. So, when someone clicks on that icon, the audio or video added by you is played.
When you have the power of voice, then why to use text.