If you are looking for a place where you can find the opinion of all the people you know, then its Facebook. And there is no better way than conducting surveys to know the opinions of the people. Now the question is, how to create surveys on Facebook?
Well, there are number of Facebook applications available which would let you create surveys on Facebook. We would listing few of them, which have been tried and tested.
Since these are applications meant for specific purpose, you wont find any difficulty in using them. Check them out!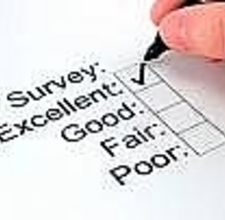 5 Best Facebook Apps To Create Surveys On Facebook
Quibblo
Quibblo is a free service which lets you create surveys, quizzes, stories for all the blogging platforms and as well as social networks. You can either use the surveys and quizzes already available on the portal, or you can create your own. And once you are done with the creation part, then you can get them published wherever you want.
QuizSnack
This is another free web application which lets you create surveys straight away and once done, you can get them posted on number of blogging platforms and social networks.
My Surveys
It's simple and free! This is the tag line used by this application. Creating surveys on Facebook is not only an easier option, but is also a fruitful one as people wont mind answering questions online. Number of companies like EA, Clarins, IKEA have been using this app to put up their surveys on Facebook. Try it out, as you can get going with your surveys on Facebook with not more than 5 minutes.
SurveyGizmo
This is a third party Facebook application which lets you create Surveys, Polls and Quizzes on Facebook. Once you get yourself registered for its free account, you are all set to publish surveys, polls and quizzes.
Survey Methods
This is not exactly a Facebook application, it is infact a program which is meant for creating surveys. Now, you can go ahead with its Basic version, which is free of cost but if you need this program with all the functionalists then you have to pay for it. But creating basic surveys for Facebook is your need, then the basic version is good enough for you.