Hulu is a video streaming service which is used to watch movies, videos or popular TV shows online for free. It can be accessible and streamed only in United States. Here is a work around which lets you  and watch your favorite videos in Hulu outside US from any part of the world for free.
How to access Hulu Videos Outside United States?
This is often the question with the people who live outside United States. The answer is simple – VPN or Virtual Private Network.  These are useful to access network resources from anywhere in the world. You can easily set up your own VPN. Check this out for details..
How To Set Up A Virtual Private Network / VPN Easily
You can try to browse Hulu videos through the new VPN and in most cases it works. If it doesn't, you should consider the next option.
How to watch Hulu videos using a VPN
If you want the easy way to watch videos in Hulu, you can try UltraVPN, a free VPN which can be set up easily. It is a client/server SSL VPN solution based on OpenVPN. In order to use it,
Download and Install UltraVPN

Create a free account.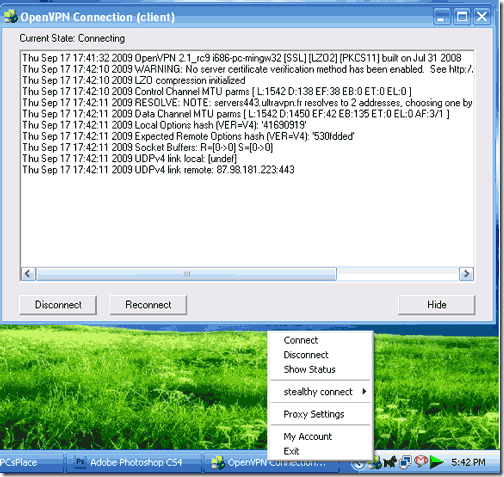 To start the service,
Right click on the tray icon that looks like a computer with a red screen.

Click Connect

Enter Username and password

Click OK
Once you are done with it, you can access Hulu videos outside United States for free. Not just Hulu, you can access any blocked websites, – connect or log in into MSN if it's blocked, use VoIP software like Skype if it's blocked, – protect your email and browsing privacy, etc
Note: This tutorial is just for the educational purpose. Don't use it for any illegal activities.