Today, most laptop computers, smart phones and PDAs come equipped with an Infrared (IR) port. Although not as fast or as convenient as Bluetooth data transfer, IR is handy simply on the basis of its widespread availability. Since IR requires line-of-sight to work, you need to be careful to align the IR ports on the two devices you wish to use and ensure that neither of them is moved while data transfer is in progress.
Here, we look at the steps involved in transferring data using a laptop with Windows XP to another IR capable device such as a mobile phone.
Step : 1. Make sure the drivers for the IR port in the laptop are installed. To do this,
Go to Start > Settings > Control Panel > System.

Click on the 'Hardware' tab and choose 'Device Manager'.

Next, click the '+' sign next to 'Infrared Devices'. The IR device in the laptop will be listed here.

Double-click on the device name to display properties. The window that pops up next will show the device status.

You will need to install the correct drivers from the CD that came along with your laptop or procure them from your laptop vendor in case the drivers are not installed.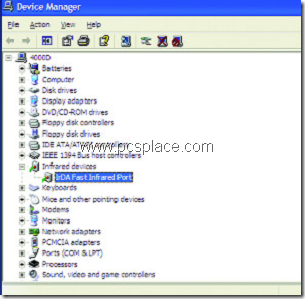 Step : 2. To transfer data such as images from the laptop to a mobile phone, enable Infrared in the phone. The procedure for this will differ according to phone manufacturer, but the menu listing to do this is usually available in 'Settings' or 'Connectivity' options in the phone menu. Refer user manual for help.
Step : 3. Place the laptop on a stable surface such as a table and align the IR port on the mobile phone with that on the laptop. The laptop will detect the new device automatically. A new icon called 'Send files to another computer' appears within the system tray.
Step : 4. Double-click on the icon. A browse window pops up. Browse to the location where the files to be transferred are located and select them for transfer.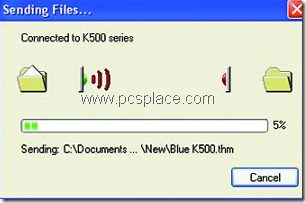 Step : 5. Click on Send. The recipient device will ask for a confirmation on whether you want to accept the transfer or not. Select [Yes] to continue. The transfer will start and a progress window will now display the status.
These steps will be useful to send data from Laptop to Mobile phones using Infrared port. To send data from the mobile phone to the laptop, Check this article..
How to Send Files from a Mobile Phone to Laptop using Infrared [ IR ] Port