You can listen to your favorite music without having to carry your laptop everywhere by sharing your music library on a wireless network. Here is a tutorial to show how to stream music from one laptop to another. Using this method digital media such as videos and pictures can also be accessed from anywhere easily. By the following method you can listen music or view your photos or movies stored in your computer from different places in the network.  
First we'll connect the server laptop to a wireless home network. This laptop has Windows 7 with Media player 12 and it has all the music, videos and media that you want to share. Right-click on the Internet notification area and select 'Open network and sharing center'. Now, click on 'Connect to a network' and from the list of networks, choose the preferred one and connect. Enter the secure network key when prompted.
Let's create a 'HomeGroup'. From 'Network and Sharing Center', click 'HomeGroup' and then 'What is a network location?'. You'll see a window with three options. Select the first one that says 'Home Network'. In the following window, select what you want to share and click 'Next'. Follow the onscreen instructions and Click 'Finish'.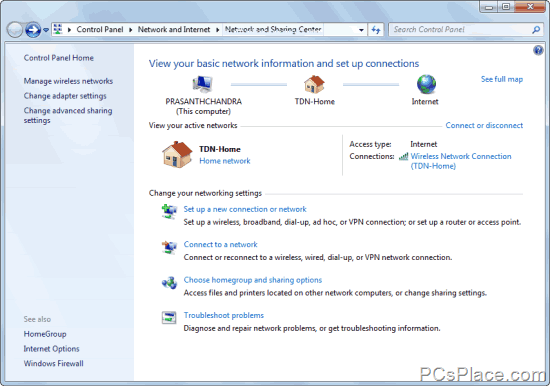 In 'Network and Sharing Center', click 'Change Advanced Sharing Settings' and make the changes. Then go to 'Media Streaming Options' and allow people you want access to your files. Open Windows Media Player, go to 'Stream' and click 'Automatically allow devices to play my media'. The content you chose to share is now on this network.
To access this content on a client PC or laptop, first connect the machine to the same wireless network as the server laptop, using the previous procedure. Vista users can right click and directly select 'Connect to network'. Assuming that both laptops are in the same network, open Windows Media Player and see of you can find the shared server laptop in the left pane.
To find shared media on the network and to share media from the client PC, in WMP, right-click on Library and click 'Media Sharing'. Here, you can allow or deny access to other PCs and find the media you're looking for. Click 'Ok' when you're done. Now, the server PC will appear in WMP and other functionalities will remain same. You're now ready to play the music which is stored on the server PC.