Here is an amazing trick which lets you get rid of ads on Spotify, without having its Premium Account. MUkoTE is a free program which lets you mute Spotify ads / adverts. This program was actually designed to mute ads on online audio / video streaming sites and media players.
Related : How to Use Spotify without Invitation – Free Spotify Invites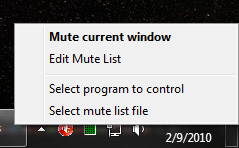 If you are wondering how MUkoTE works, then there is a simple but brilliant idea behind it. This app basically checks the title of the window, checks it with its ads list. And if it finds the same entry, it mutes the ad. Amazing, right?
So, whenever you hear a ad on Spotify, just update MUkoTE with the title of the Spotify and you will find that this program will mute that Spotify ad automatically in the future. So, whenever you hear any Spotify advertisement, simply click on the MUkoTE's icon on system tray and mute that sound.
Then the program will automatically add this name to the list and will make sure that it mutes that Spotify ad, whenever it streams it.
Developers of MUkoTE have designed it specially to mute Spotify ads, so they have already made number of entries in their list. And best part about this program is that it can not only mute Spotify ads but can mute ads of any online streaming or media players. If you are an avid Spotify user, its worth trying.