Ringdroid is a free Android app (Ringtone Maker) which lets you make / create your own ringtones on your Android mobiles phones like Nexus One, Motorola Droid and other. Ringdroid is one complete Android bases ringtone maker in every sense.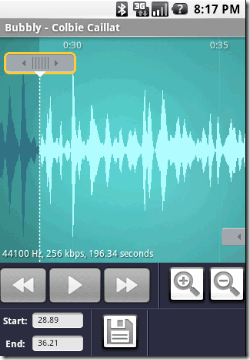 This Android Ringtone Maker lets you load any audio file in it and view its waveforms so that you can tweak them as your like. You can even create or record any audio clip to use it as your ringtone. And then you can set those ringtones.
Although it is a free android app, features offered by this ringtone maker namely Ringdroid is simply amazing. You can adjust eh waveforms, volume, cut, edit audio clips.
This android based ringtone maker is a must have app on any Android powered mobile phone.