Well, feelings are what that matter regardless they are on paper, screen, stationary or moving. But no doubt, Flash eCards make a better impression than conventional eCards. So, here is a complete guide to make / create customized Flash Movie eCard greetings.
This is an amazing tutorial as you need not know anything about Flash. We would be using another tool, SwichMAX3 to create customized flash eCards.
Download and Install SwishMax
STEP 1: Visit this page and click on 'DownloadSetupSwishmax3.exe' link.
STEP 2: Once you are done with its download, install the same on your computer and run it.
STEP 3: Now, click on the button labelled as Try Now. Now you will re redirected to a webpage where you would be prompted to fill in the details. Once you are done with it, Try Now button changes into Paste Key.
STEP 4: Now check you email ID that you have entered while filling the information as you would have got the Key. Use it and activate this program which would let you create customized flash movie ecard greetings.
That is it! Finish its installation by clickin 'OK' on the 'Congratulations! You have entered a valid key' dialog box to continue.
Create animated Movie

The next step is to create an animation of your choice. To continue, carry out the following steps:
Start with a blank template

Navigate it to File > Import to  Stage > Image. This will let you set an image background to your animation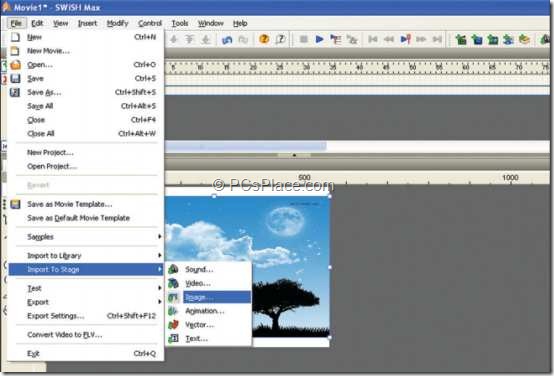 Resize the image to fit inside the frame

Click the Text tool from the tool box docked on the left side of the window

Type the text of your choice and place it on the background

Set the font at other value from the Properties panel on the right

Select the text and Go to Insert > Effect and select an effect of your choice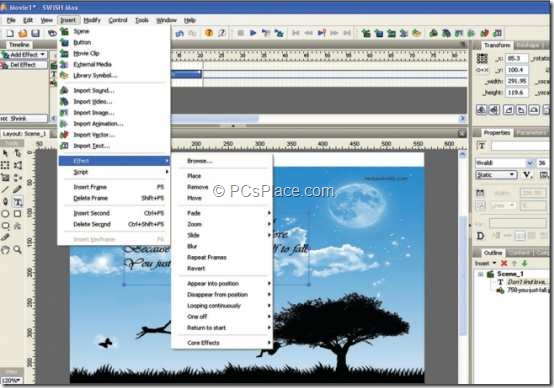 Finally to export the movie, go to File > Export > HTML+SWF

Type a name for the file the animation will be save as two files, one HTML and another an SWF file.

Run the HTML file to view the animation you created.
Add Sound to the Flash Movie
You can complete your movie by adding a background sound to it as well. When you are using a sound, make sure that your animation is as long as the music frames.
To do that, just break your text into smaller blocks to experiment with multiple effects. To add music to your movie, carry out the following steps:
Go to Insert > Import Sound

The song will be added to your movie. A pink strip will signify the length of your movie on the time line

Proceed to create your final animation
If you wish to edit the sound file, you can do so using popular applications like Sound Forge.
That is it! Just few minutes and thoughts at work, you can easily make / create customized flash movie ecard greetings. Now this is one of the best way to express your feelings, as these ecards are something that you have created from the scratch and it depicts your feelings.