Customizing your favorite ringtones normally involves downloading a third party application to edit and crop audio files. This can be painstaking, time-consuming and even expensive. We already discussed how to make own ringtones using your favorite songs. Here is another good website called Makeownringtone.com, an online ringtone editing tool that simplifies the process of audio editing by means of easy-to-use tools and a basic user interface.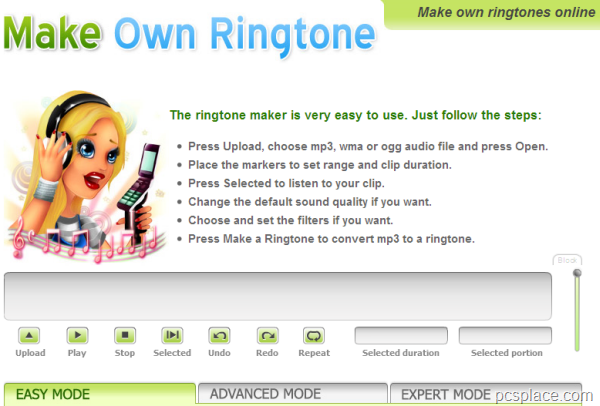 A great advantage of using this site to edit ringtones is that it supports multiple audio formats. The supported formats include MP3, AAC, OGG, MP4, MMF, etc. Here is an easiest way to make your own ringtones for your mobile phones online. ..
The first step is to upload an audio file for editing. Click the "Upload" button that can be found below the timeline. 

In the dialog box that appears, select the file that you would like to upload.

Once the track is uploaded it will appear in the timeline as a waveform.

Click "Play" to play the track from the beginning.

A part of the audio file can be selected by clicking on a particular part of the waveform.

You will see two handles that mark the start and the end of the selection. These handles can be moved to adjust the length of the selected region.

You can play the selected part of the song by clicking the "Selected" button.
Before you download the ringtone make sure that you have selected the right format and the best possible BitRate. Click the "Make a Ringtone" button to create the ringtone. The ringtone file can be downloaded to your computer, sent to your cell phone or can be directly mailed to you
There are 3 modes which allow you to customize your ringtones. They are explained as follows..
EASY MODE:
This mode, as the name suggests, caters to basic audio editing needs of a user. This includes "Normalization", a feature that amplifies the sound in the audio file and at the same time makes sure that there isn't any unwanted audio. You can apply the "Fade" effect to the beginning, end or both of the song you uploaded.
ADVANCED MODE:
The Advanced Mode enhances the audio editing feature. Follow the same procedure as the "Fade" effect to apply the "No Silence" effect. The "Bass" and "Treble" effects can be applied to the file using the dropdown box and by adjusting the Frequency. "Reversing" inverts  the uploaded audio file.
EXPERT MODE:
For additional effects to be added to your track click on the "Expert Mode" tab. "Pad" adds a silence break to the ends of the song. You can reject frequency bands to a certain level using "Band-Reject". "Chorus", "Echo" and "Reverb" effects can be added to any part of the audio track. Using the other effects available in this mode requires some expertise and knowledge of sound signals, their behavior and also the repurcussions of changing these settings.
Create your Own Ringtones at www.makeownringtone.com