This tutorial explains how to import your contacts from different mail accounts like Yahoo mail, MSN , Live or Hotmail or Outlook into Gmail address book. CSV ( Comma-Separated-Values ) files are used to export your contacts from different email accounts. You can easily import all the exported contacts to Gmail's Address book. This is useful If you want to use one account to mail all your friends.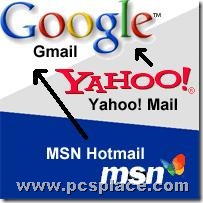 To import contacts into Gmail the 'official' way, you'll need to export a CSV file from your other mail account, and then import it into Gmail. Here are methods in which you can export those required CSV files from different email accounts.
To import your Yahoo! Mail address book, save your file as a Yahoo! CSV. Instructions are available in the Yahoo! Address Book help section from here
To export your contacts from MSN Hotmail / Live to Gmail.
Login to your account and go to Contact list.
Click manage and Export.
Enter the CAPTCHA code and click Export
You will get a CSV file downloaded which has all your contacts.
You can even import contacts from different accounts to live email account by clicking Import option and doing the needful instructions.
To Export A CSV File  From Outlook And  Outlook Express:
Here are some general directions to follow, though instructions may vary by version. For more detailed instructions, open 'Help' in Outlook or Outlook Express and type 'export' in the search box. Look for topics including 'export wizard', 'export information', 'exporting contacts' or 'exporting address book contacts' in the title.
From Outlook:
Select File > Import/Export > Export from the main menu. Choose Comma Separated Values (Windows). Select 'Contacts', and save the exported file.
From Outlook Express:
Select File > Export > Address Book from the main menu. Select 'Text File' (Comma Separated Values). Next,  click 'Export'.
Importing A CSV File Into Gmail:
The above downloaded CSV files are used to import contacts to Gmail. Follow this procedure to do that..
Log into Gmail and click 'Contacts' on the left side of the page.

The Contacts list then opens in a new window.

Click 'Import Contacts'.

Click 'Browse' and locate the CSV file you'd like to upload.

Select the file and click 'Import Contacts'.
After successfully uploading the document, a dialog box displays the number of new entries that were added to your Contacts list. After this you need not search for any of your contacts.