Want to copy songs off your Apple iPod to your PC? You can use the small program SharePod to do this job for you. After installing this tool, you will be able to exchange any music file between the iPod and your Computer. This makes it easy to copy songs from your iPod and Transfer them to your PC easily.
Know more from here: SharePod – Manage Apple iPod without iTunes – Share, Backup and Organize Music
You can do this by selecting the songs from a list just like in iTunes, and then clicking the 'Copy to PC' or 'Copy to iPod'. Additional features include an integrated media player and an editor for ID3 tags.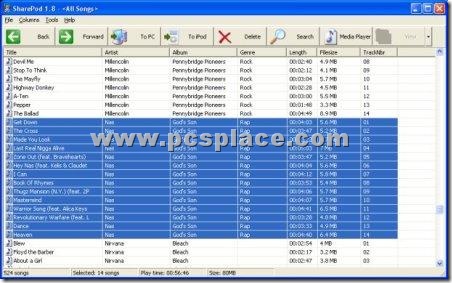 In case the program does not identify your iPod, start iTunes so that the device is initialized properly. SharePod can then access the 'iPod_Control\iTunesDB' file required for identification and thus read the music flies stored in the device.
Note: The tool functions only with the Microsoft .NET framework 2.0 installed. The .NET framework is also free of cost and available at www.microsoft.com.
If you just want to copy songs without worrying about the order or naming of the songs, you can even try the following method which can be used to copy all the songs in the iPod. Using Windows Explorer method, you cannot identify the songs as they are scattered across various folders and their names are masked, possibly to avoid pirates
Go to Tools > Folder Options > View

Check – "Show hidden files and Folders"

Connect your Apple iPod and go to the drive.

There you can find the folder with all the songs, Just copy them directly
If you know any more methods to copy music from iPod, Share them though your comments.