Watching videos and movies while on the move is one of the best ways to kill time, especially if it is a long distance journey. Here is a tutorial which explain you how to convert your videos or movies to mobile formats and watch your favorite videos clips on your cell phone or mobile phone.
Most of us use mobile phones that can play music and videos. Some can play basic 3GP movies, while others can play DivX and WMV quality videos. Memory chips ranging from 1 GB to 4 GB are so cheap and common that most mobile phones are bundled with at least 1 GB memory.
So with a video playable mobile phone, memory space at your disposable, and a long journey ahead, wouldn't it be nice if you could watch some of your favorite movies on your cell phone and while away your time? You can convert your movies or videos easily and can watch them on your mobile phone.
All you will require for this is a 3GP Video Convertor which can convert any video format into 3GP. Check out this free software to convert any video format to 3GP format.
3GP Video Constructor – Convert AVI, DIVX, XVID, MP4, MPG, WMV, ASF, MOV to 3GP
Here I am using ImToo MPEG Encoder, which is better to convert videos of lesser durations. Download the program, install and run it. Then follow the steps given below to convert videos or movies and watch them on your cell phone..
Step 1 : Drag and drop your video files into the main window. Each video can be from any format like AVI, DAT, MPEG, DIVX, XVID, MP4, MPG, WMV, ASF, MOV etc.
Step 2 : Choose the 'Profile' for the format of  your video (*.3gp ). Click on the right window, tweak it for better quality, size and audio.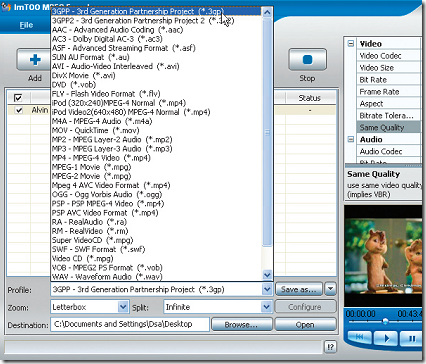 Step 3 : Set destinations of the video to be transcoded . Set, Zoom mode for aspect ratio, split the final video into smaller files if needed. Click on 'Encode' button .
Step 4 : The encoded file is ready in the destination folder. Conversion depends  upon the speed of your computer, file size and codec chosen. Go ahead and transfer your converted videos to your mobile phone
Note: The quality of the audio and video can affect the size of the 3GP file. So, choose wisely before you set parameters. When we converted a video file of 471 MB MPEG video, using the best quality settings it bloated into a 3GP file with a size of 789 MB.