Laptops have become an essential commodity in any kind of business. The laptops are used to record company information, database, employee networking, getting clients and more. Unlike the gadget market few years back, we are now spoiled for choices. Choosing a laptop depends on various factors like laptop prices, portability, performance and durability. In this article, we will look at some of these factors in brief.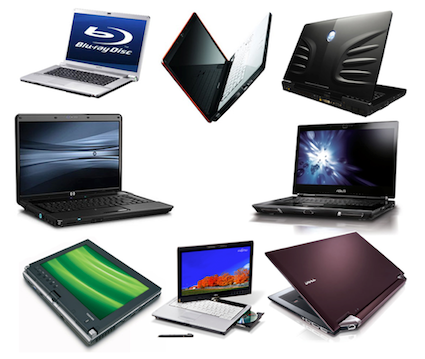 3 Things to Consider while Choosing a Laptop
Here you go:
1.     Laptop Prices – Custom & Taxes
A laptop which costs $400 in USA will cost 28,000 INR in India. There is a huge price gap mainly because of geographical factors and price perception. Buying a gadget in India is still expensive because the companies have to incur heavy custom duties and taxes, which get reflected in the final price per product buyers shell out. Moreover, laptop brands go by the perceived market value of their products. The 'real' value is always less than the perceived value.
Nevertheless, you or me do not have any control over this factor but if you know someone in other nations, you can ask the person to inquire about laptops and buy you one if it's feasible. Otherwise, buy in India and take note of other important factors highlighted below.
2.     Screen Size of Laptops
When measured diagonically, the screen size of laptops vary between 11 inches and 20 inches. This is a major factor towards laptop selection. You have to take note of the kind of work you do and purchase a screen size. For instance, if you are into designing or watching Flash files, a laptop with a bigger screen size is necessary. If you are into emailing, making presentations and reading online, an 11-inch laptop will work fine. Moreover, the screen size goes a long way into determining the laptop size. Small and sleek laptops have smaller screen size.
3.     Laptop Battery Life
The battery life is an important factor in deciding laptop prices and its suitability for your business. If you are constantly traveling, you need a laptop with a high battery life. Laptop brands maximize their product sales by highlighting this aspect. For business purposes, you need a laptop which will give a minimum of 3 hours of solid battery life.
Other factors include portability, graphics, performance, input selection and output selection.
Laptops for Business – 4 Main Classifications
The laptops used for business can be typically classified into 4 types. Choose the type your business needs fit, check a selection of laptop prices in the chose type and decide.
1.     Standard Laptops
The majority of laptops you see in the market are standard laptops. They have a screen size of 15 inches, a great battery life and perfectly portable. It might not have high-end graphics and performance but you can research more and choose.
2.     Light Laptops
Frequent travelers use this kind of laptops because they have smaller screen size, they are light and thin, which makes it ultra portable. The screen size and battery life is sufficient for frequent travelers. However, a major disadvantage could be the lack of adequate input / output ports (USB drives) and low quality graphics.
3.     Super Light Laptops
You can consider Tablets as super light laptops. They are meant for those who want to access Internet 24 x 7 with a device which can literally fit their pocket! The super light laptops are super portable with adequate screen size but they lack in all other aspects, namely screen resolution, battery life, input / output selection and performance.
4.     Laptops as Desktop Replacement
If you do not want the usual desktop, you can replace it with laptops which have a larger screen size (17+ inches) and are packed with performance factors. Nevertheless, the desktop replacement laptops are not portable enough and they have a shorter battery life because it needs power for other performance factors. Lastly, these cost more than the standard laptops.
Conclusion
The choice for your ultimate business gadget will rest on laptop prices, performance, battery life, screen size and your business needs.
This is a guest post by Sanjeev Kumar , a tech critic and a proud Internet Geek who loves to write about Mobile phone, Laptops, tablets and online shopping. Currently he is working with India's most trusted comparison shopping website IndianPrice.com