For how long computer has been up and running? Do you want to know this without having to install any utility or software on the computer? For PC addicts, it is very importance know the measure of time their system has been running. This helps in controlling overall time spent on the computer and add discipline to the computing routine.
One can easily get the computer uptime using good old command prompt. Here goes:
1. Click Start > Run.
2. Type cmd and click on OK. Black command prompt window should appear.
3. Type systeminfo and hit the enter key.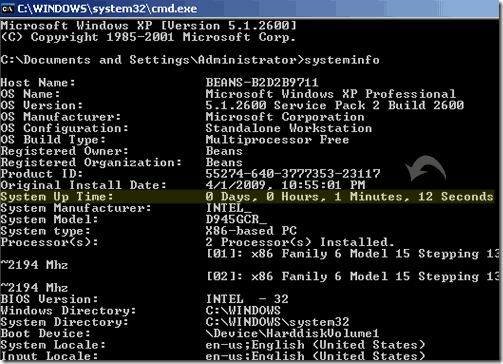 You will see lot of information being displayed about your computer. See the 11th entry on the screen "System Uptime". It is time since computer has been running – displayed in days, hours, minutes and seconds. Incase you are feeling tired sitting in front of the computer, do system uptime check and know the time you have been staring computer screen!
This is a guest post by TechF5 Refreshing Tech which feature handy tips, tricks, guides and tutorials on basic computing like how to make video from photos?