How would it be. If you have your own picture or favorite image as an icon of your personal folder. You can change the default windows icons to anything you like by using simple method. With the following procedure, you can change icons of your files, folders, or even installed programs in windows Operating System. This is a cool way to personalize the look of your desktop. Follow these steps to change the icons
Right Click the particular File or Folder for which you need a different icon.

Click on change icon in the shortcut tab.

If you want to select any other icon from the default list, select it and click OK.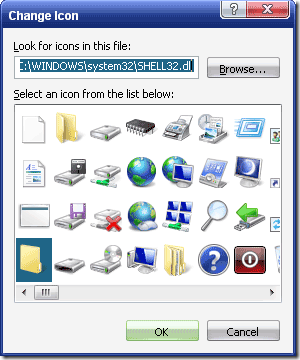 If you have any other ICO file you created, go to that file, select it and Click OK.
You can create your own ICO files from pictures or images using a simple software called Simply Icon. To know more check this out, Simply Icon – ICO Maker – Create Icons from Pictures Easily.
Click Apply and OK and you can see a new icon.
You can play around and change icons of any file or folder or installed applications and by this way you can customize the icons to your choice.
Related: How to Customize and Make Your Own Icons that can be Resized in Windows Vista