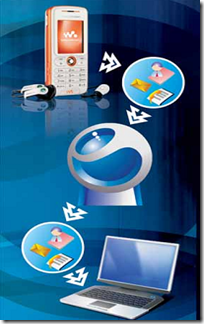 Do you fear losing precious data from your Sony Ericsson mobile phone in cases of theft, damage or virus attacks? You may not mind losing the handset so much, but the data inside the phone, be it your SMSs, phone numbers or even your personal videos and pictures, may have had importance to you.
Here is a tutorial on how you can back up the entire contents of your Sony Ericsson mobile phone. Store the data from your phone onto your computer to later restore it on your new phone, or just for safety purposes. All you need to do this is a free utility called 'MyPhoneExplorer' which you can download from the Internet, your mobile phone and a cable or Bluetooth to connect it to your computer. This freeware can also help you do loads of other things such as making calls or sending SMS directly.
Follow these simple steps and back up entire information of your Sony Ericsson Mobile phone and keep your data safe.
1. Download and install 'MyPhoneExplorer' from 'Here'. Install this freeware using the regular installation method and run the application. Now, the software is ready for use.
2. Plug in the Bluetooth dongle and install the drivers. Start the Bluetooth service on both the computer and the mobile phone. Search for the mobile from the computer and add/pair them together using the necessary pass codes. Once the devices are paired, it will show up in the window. Your mobile is now ready for use.
3. You will need to add a COM port for your mobile phone service. Double click on the Bluetooth icon in the system tray, then choose 'COM Ports > Add > Outgoing connection'. This is necessary as your computer needs to access the mobile phone using a COM port because MyPhoneExplorer needs this port.
4. Start MyPhoneExplorer and click File > Options and under 'Connections' choose 'Search For Device'. Your mobile phone will be automatically scanned and set. Click 'OK'
5. After the phone is found, click 'F1' or 'File > Connect' and after the phone is connected, specify a name for your phone's profile.
6. The moment your phone is connected, MyPhoneExplorer will then sync and download all information from your phone to the computer.
7. Click on 'Extras > Create backup' to start the backup procedure of your phones contents to the computer.
8. Check the 'Files' options and choose the necessary contents of your mobile phone, apart from the contacts, events and tasks, for backup.
9. After you have chosen what you need to backup from your phone, click on 'Create Backup' and your phone's contents will be backed up to the computer. Give a name to the backup file or just leave it to the default file name which indicates the date and time the backup was done.