Apple would like to think that iPod users willingly use iTunes to load music to their player. But you want to still keep using the good old Winamp for managing the music in iPod, because after all, your own music library is enough work and you don't really want to make a new one. This post shows you how to synchronize and copy songs from your Apple iPod using Winamp.
With the much loved Winamp media player, and the 'ml_ipod' plug in, you can manage your music on new iPods without using iTunes. Unlike the Apple program, Winamp also runs on old Windows systems. With the extension, Winamp can copy MP3 files and AAC files to the mobile player. Unlike the iPod function Implemented in Winamp, the 'ml_ipod' plug in also allows you to play photos and audio books. If you want it to, the extension synchronizes the complete Winamp Library and can transfer playlists that you have created. Even the other way, as in transferring songs from the iPod back to the PC, works perfectly fine, unlike the case of iTunes.
INSTALL:
This practical mini program is available for free at www.mlipod.sourceforge.net. After downloading, open the file 'iPod_Support_v3_05.exe'. Together with the installation, start 'Winamp' and connect the iPod to the computer. Now a previously installed iTunes will start, simply end it. In the view of the media library, you will see the new entry 'Devices' and there, you have access to the 'iPod'.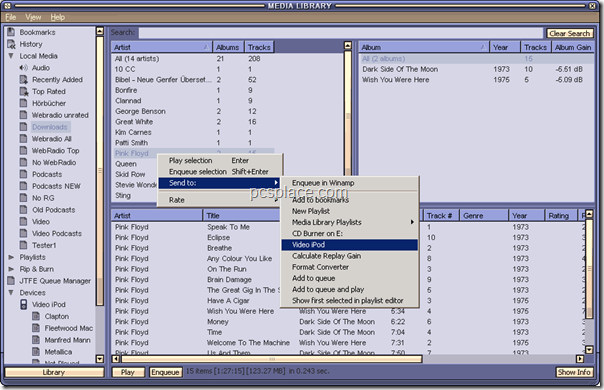 CONFIGURE:
The default settings of the plug in are already quite practical. But you can nonetheless customize it.
In Winamp open 'Options > Settings' and click on the left on the category 'iPod Support'.

Alternatively, in the media library in your selected iPod, click the 'Configuration' button.

In this category and its sub categories and the tabs in these, you can make many settings.

Under 'Tools' you have, for example, the option of additionally activating and configuring support for 'Photo Upload' or 'Last.fm'. You should not activate settings for automatic processes on connecting the device, because you could lose data.

You can find the plugin in the category 'Media library' under 'Plugins' in the 'iPod Support' dialog.
COPY:
In continuous operation, you can transfer everything quickly with the context menus.
For example, in the media library, right click a title, singer or an album and in the 'Send to > iPod' context menu.

Alternatively, on the iPod, click an element and depending on the task select 'Copy to hard disk' or 'Delete from iPod'.

For extensive synchronization, select the iPod in the media library and then click 'Sync' or 'Auto Fill'. The next dialog box will inform you of the subsequent action.

There, click 'More' to adapt the title selection. A click on 'OK' then synchronizes all the data.

Before separating the iPod from the computer, click 'Eject' in the media library or then exit Winamp.