Many of us have multiple versions of Windows like XP and Vista running on the same machine. You can share all your Outlook Express data across these different Windows versions. Here is a procedure explaining how to share Outlook Express (OE) over multiple operating systems.'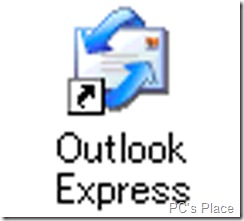 Step 1: Start up the first Windows installation of your multi-boot system. Then create a folder on the hard disk
where you would like to store all the mails you send and receive. Note that this folder must use the same drive letter over all the Windows installations.
Windows XP will allow you to change drive letters. Moreover, this folder must not reside on an NTFS drive. Now start up OE. Go to Tools > Options > Maintenance. Click 'Store Folder', then click 'Change'. Browse to the folder you just created and click 'OK'. Click 'OK' once more.
Step 2: Start up the registry editor by going to 'Run' in the Start Menu and typing in 'regedit'. Navigate to each of these keys and do a file export of each of them to any folder on a hard drive that is accessible to all the Windows installations:
HKEY_CURRENT_USER\Identities
HKEY_CURRENT_USER\Software\Microsoft\InternetAccount Manager
HKEY_CURRENT_USER\Software\Microsoft\OutlookExpress
A file export means you'll need to click on each of these keys and then click File > Export. When prompted to save, remember, you need to select the 'Save As' type as 'Registration Files.'
Step 3: For the address book, go to HKEY_CURRENT_USER\Software\Microsoft\WAB\WAB4\Wab File Name and do a file export.Once this is done, restart the other Windows installation.Before starting OE here,open the registry editor and go to HKEY_CURRENT_USER\Identities.
Then, right click on the 'Identities' sub-key and select 'Delete'. Once you do this, locate the four .reg files which you exported earlier, and double-click each one to import them into the registry. Answer 'Yes' to the import prompt.
Step 4: After you complete the above steps, OE should open up with the same settings, folders, mail, and news that you had in the other Windows installation!