Templates are one of the most common and convenient formats to be used anywhere. Templates in Microsoft Word can be used to apply common formatting styles in a document. Use a template to specify default style and menu options. MS-Word 2007 provides various kinds of templates that can be applied to your document.
Word has a default template called 'Normal.dotm' which is automatically attached to your document. However, here is how you can change the default template and add or attach a different template to suit your requirement.
Click the 'Developer' tab.
In some cases, the 'Developer' tab may not be visible. If you don't have a developer tab in the ribbon bar, you can enable it easily. To make it visible,
Click on 'Office' button followed by 'Word Options'. In the 'Word Option', Select 'Popular', Check the 'Show Developer tab in the Ribbon' option.
Click 'Document Template'. This displays 'Template and Add-Ins'.

Click 'Attach'. The 'Attach Template'.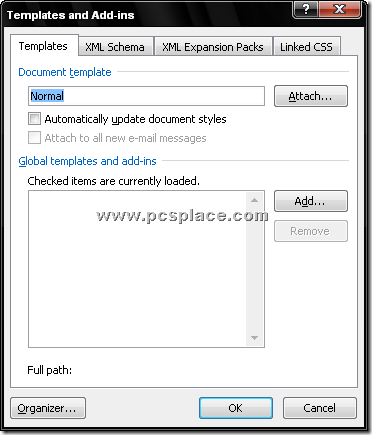 Use the controls and select the template you want to attach.

Click 'Open'.

The name of the selected template appears in the 'Document Template'.

The Attach Template dialog box disappears, and the name of the selected template appears in the Document Template box.

Check the 'Automatically Update Document Styles' check box to apply the styles of the template.

Click 'OK'.