On July 11, Facebook began rolling out a new feature for Groups. The update is minor in size (you may not even realize it's there), however the use of it may make an giant-sized difference in how you track and manage your groups. This new "seen by" feature allows Group members to instantly know who has read any given post and, by process of elimination, who has not.
How to see who has seen your group's post
Assuming that the function has been rolled out, using it is simple. You'll find the new "seen by" link on the right hand side of every post made by a group member. Clicking on it will open up a mini window which shows the name of each group member who has viewed the post, and at what time. If every member of the group has checked in, you'll get a handy "seen by everyone" checkmark, thus saving you from having to count off each one (eliminating the classic "hey, do you remember if we have 12 members or only 11?" dilemma).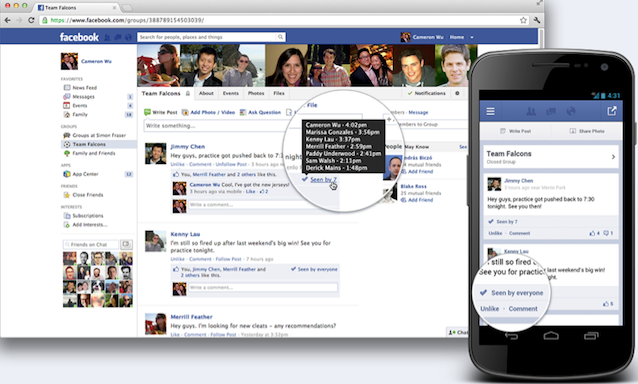 Follow-up made easy
Obviously, if you're working with a dwindling timeframe, you can use this function to figure out exactly who needs a further reminder (it's your choice whether the wording is stern, concerned, or merely motivational). You can also head off some weak excuses, such as "oh, that was today? I had no idea…" This mirrors the essential "read receipts" that no professional email client would be complete without.
Where to use the new feature
Remember, this function is for Facebook Groups, not Pages or Profiles. While Pages and Groups are broadly similar, Pages are publicly displayed and specifically for "brands," although this may include companies, organizations, celebrities, etc, and can only be created by an "official representative." Groups are more of an informal club, anything from an unofficial fan page to a bunch of guys who get together on the weekends to play football, and Groups can be made private (i.e., only viewable by members).
The future of Facebook tracking?
Facebook Profiles, of course, are your personal info and wall "stream." Many social networking sites do employ a means of "fingerprinting" for profile views, although some of the most prominent (such as LinkedIn) reserve most of this information to paying customers. There are no plans yet to adapt a similar "seen by" function for Facebook Profiles, which is very good news for both privacy advocates and stalkers alike. However, we all know that Facebook is always looking to, uh, "broaden their range of collected data." In other words, you should keep checking up anonymously on that ex-husband or teenage daughter while you still can.
Greg Buckskin is a tech writer, blogger and social media manager for CableTV.com.