Microsoft's Internet Explorer 8 is open for download. It offer loads of new features including faster browsing, web slices and accelerators. We already discussed about  IE 8 Readiness Toolkit for developers. If IE 8 failed to attract you and If you want to uninstall Internet Explorer 8 from your Computer easily, here is a way that will remove IE 8 completely.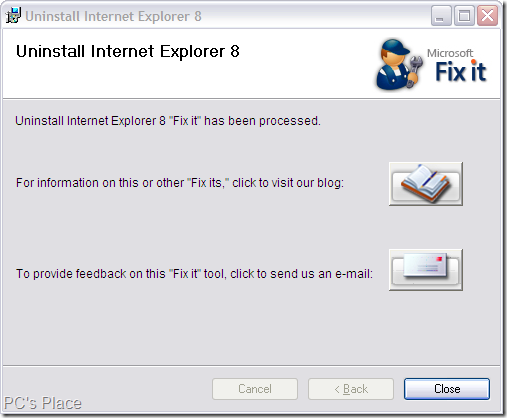 To do this, You have to download a uninstaller from Microsoft's website. It is called 'fix it' un-installer and it will remove Internet Explorer8 in few simple mouse clicks. Click Here and download the uninstaller and then click 'Microsoft Fix it' icon.
Then click on run button on the pop up window or open the uninstaller, follow the on-screen instructions and remove Internet Explorer8 easily. You can also check out different ways of uninstalling or removing IE8 like editing registry and other alternate steps etc from the same page above. This is the simplest and fastest method to remove Internet Explorer 8.